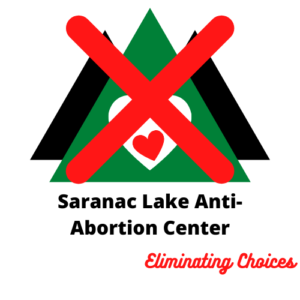 Do not visit the Adirondack Pregnancy Center (APC) if you are looking for factual, unbiased help with your reproductive health decisions. 
This Saranac Lake pregnancy center is not a real health clinic. it is an anti-choice propaganda center run by religious institutions. The primary purpose of the APC is  to prevent people having abortions.
The Adirondack Pregnancy Center is not a medical institution. Therefore, the APC has no regulatory oversight. They are legally allowed to lie to visitors and give them factually inaccurate "information".
Places like the APC are known as crisis pregnancy centers. These notorious for lying to and shaming women. Some have even been caught exploiting personal medical information.
The pregnancy center in Saranac Lake is affiliated with one of the world's largest CPC organizations, Heartbeat International (also known as "Alternatives to Abortion"). Their vision is "to make abortion unwanted today and unthinkable for future generations." 
This is not a facility that will let you choose the right option for you and your body.
If you are looking for factual, unbiased pregnancy, family planning, and birth control help in the North Country, please contact these institutions:
To learn more about crisis pregnancy centers, visit our Resources page.